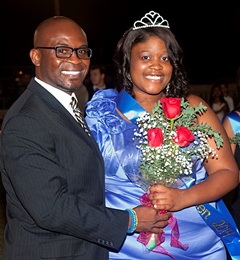 Congratulations to Hannah Cooper, Miss Homecoming 2014!

---
---
Evening High School – Credit Recovery
This program allows students to recover a nine weeks they have failed in English, math, science, or social studies. Students can improve their failing grade to a maximum grade of 70 or recover credit due to absences. Credit Recovery due to excessive absences: Students must complete at least 20 hours or one hour per day missed; whichever is greater. Hours needed to recover credit based on grades from 60 -69:
69-65 20 hours
64 24 hours
63 28 hours
62 32 hours
61 36 hours
60 40 hours
For all the details please read the entire file here or click on Forms in the menu at left.